Slate of Nominees for 2020-21 BDJH PTA EXEcutive board
The BDJH Nominating Committee has met and voted on a slate of nominees for officers of the BDJH PTA Board for the 2020-2021 school year. Names of the committee members are as follows: Shani Matheson - chair, Maite McCollam, Denise Dibble, Eric Jacobi and Lannie Christensen. We respectfully submit the slate as follows:
President
- Allison Lindberg
1st VP of Programs
- Sarah Brack
2nd VP of Membership
- Jenny Kumar
3rd VP of Fundraising
- Wendy Chang
4th VP VIPS
- Denise Dibble
Secretary
- Vicky Georgas
Treasurer
- Sarah Westerbeck
The elections will be held at the next Membership Meeting on
Tuesday, March 17th at 11 AM at BDJH in the LGI
. Nominations can be made from the floor immediately before the election of each office. Please contact Shani Matheson, nominating chair, at
olemissteach@yahoo.com
.
---
BDJH PTA General Membership Meeting & Election

Tuesday, March 17th at 11 AM
Join us for our next General Membership Meeting on Tuesday, March 17th. The election of our 2020-21 Executive Board will take place. Hope to see you there!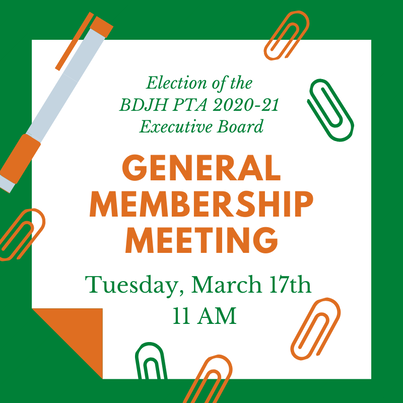 ---
Down SYndrome Awareness Day

Friday, March 20th

​Rock your socks
World Down Syndrome Day is March 21st (Down syndrome is caused by 3 copies of the 21st chromosome, 3/21, get it?) and will be celebrated at BDJH with a Down Syndrome Awareness Day. Everyone is encourage to wear crazy socks (chromosomes sort of look like socks). Students wearing crazy socks will be entered into a raffle during lunches. Prizes will include popcorn, chocolate, gift cards....

To learn more about Down syndrome: ​

https://www.ndss.org/about-down-syndrome/down-syndrome/

---
---
Thank you to abuelo's Restuarant
FEBRUARY IS SISTER SCHOOL MONTH IN KATY ISD AND BECKENDORFF PTA WAS ABLE TO TREAT OUR SISTER SCHOOL, KATY JUNIOR HIGH, TO ABUELO'S DELICIOUS SALSA & CHIPS. WE WORK WITH A LIMITED BUDGET & WANT TO SHOUT OUT A HUGE THANK YOU TO ABUELO'S RESTAURANT FOR DONATING THE TREAT 100% for 130 STAFF MEMBERS! KJH LOVED IT! ​
---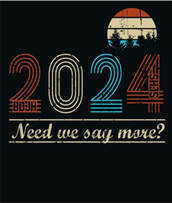 Click the image for the
8th grade webpage
with all your 8th grade information including: help us plan the 8th grade dance meetings, get the cool "2024 Need we say more" 8th grade shirts, ...
Upcoming Meeting Dates --
​
Tuesday, March 24 at 10 AM
​
Dance date set for
Saturday, May 9th.
---
---
Coffee with the PRINCIPAL

March 27th, 10 AM
Join us and learn about the current happenings at BDJH. Question and answer session with Principal Moussavi.
---

​welcome volunteers - volunteer opportunities
We are so excited about the
2019-2020
school year!
We are collecting the contact information of potential volunteers that can be given to our BDJH PTA committee chairs for upcoming events.
Please click on the button below or HERE
to
sign up for any/all opportunities that you would like to be notified about this year.
​​
Ways you can get involved at BDJH...
6th Grade Volunteers
7th Grade Volunteers
8th Grade Volunteers
Carnation Sales
Fun Food Day
Holiday Decorating / Beautification
Hospitality
Red Ribbon Week
Spirit Wear
Workroom
See the sign up link for more details!
---
Join the PTA - SUPPORT BDJH PTA, TEXAS PTA AND NATIONAL PTA
PTA Membership is easy and open to everyone: parents, students, teachers, family, and community members. The membership year is from August 1, 2019 to July 31, 2020. Membership is $8.00 and not only helps support programs at BDJH but also supports advocacy efforts of the Texas PTA and the National PTA. Help us "Back the Future", sign up your family today! You may join online at:
http://www.joinpta.org/
or print this
form
and return to school.
---
BDJH in the News!
We love to share with our community all the great programs and activities our bears get to participate in! Feel free to send your photos with a brief description (including names of ALL of those pictured) to our BDJH PTA Communications Chair,
Marsha Jaramillo
​. She will send articles and photos to our community publications. The deadline is the 15th of every month.
*If any photos include student's full face, permission must be obtained from the parents before they can be sent to any publication.
Please include parent's approval with any submission.
---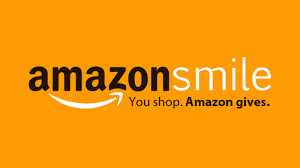 Please help support our students and your Beckendorff JH PTA by linking your Amazon account so that every time you shop, 0.5% of your purchase price will be donated to BDJH PTA, as no extra cost to you. To participate, simply click,
​
https://smile.amazon.com/ch/83-0390936
---